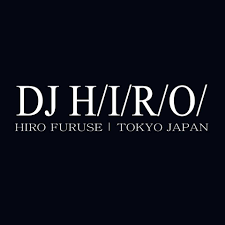 [English]

DJ H.I.R.O. (HIRO FURUSE)
He started to spin in 1985. He has been playing not only 1000 people capacity clubs mainly in Tokyo and Kanto area but also clubs all over Japan included Nagoya, Sendai and Hokkaido. He has ever played in London, and a few thousand people scale outdoor parties. He started out London style underground parties, and some outdoor parties which was very progressive when there was no outdor party in Japan in 1992.

Since then He vigorously works as a event producer too. One of his track under the name of DELTA was included on a same records with DJ JOHNNY VICIOUS famous for his remix of a MADONNA's song. His tracks are released from various labels.
He provides tracks to artists in the world. He also produces jingles. His selection and DJ style is mainly progressive and also spritual sound and attracts audience.

He works as a DJ, a producer and also runs a record label.

2010 mix.dj – World DJ MIX rank No.1 – Lounge charts (monthly rank)
2011 mix.dj – World DJ MIX rank No.1 – Chillout charts, Ambient charts (monthly rank)
2013 mistiquemusic "Deep Sky And Blue Moon" released
2014 Gastspiel Records "DEEP DOWN IN TOYKO 11" released
[日本語]

DJ H.I.R.O. (HIRO FURUSE)
1985年よりDJを始め、都内を中心に、1000人以上集客する大型クラブでのレジデント / チーフDJの他、ツアー等で北海道、仙台、名古屋など、日本各地でDJを行う。 1990年頃よりロンドンアンダーグラウンド的なパーティを初め、日本で野外パーティが無い頃に野外にてパーティを行うなど、先進的な活動を行う。また、野外での数千人規模のイベントでのDJ、イベントプロデュース等、精力的に活動。
楽曲制作においては、CM楽曲、海外アーティストへの楽曲提供など、精力的に活動する。また、DELTA名義でリリースした楽曲が、MADONNAなどのRe-Mixでも有名なNYのDJ JOHNNY VICIOUSと同時収録されるなど、国内外の評価も高い。
DJに於いては、プログレッシブなサウンドを中心に、時空間をイメージさせるサウンドを得意とし、選曲により様々な幻想の世界にオーディエンスを引きずりこんでゆく。
現在、DJ、楽曲制作など様々な活動を展開中。

2010年 mix.dj – 世界DJ MIX ランキング1位 – ラウンジ部門(月間ランク)
2011年 mix.dj – 世界DJ MIX ランキング1位 – チルアウト部門、アンビエント部門 (月間ランク)
2013年 mistiquemusic "Deep Sky And Blue Moon" リリース
2014年 Gastspiel Records "DEEP DOWN IN TOYKO 11" リリース